GET  NOW!
$2.00 Discount with FREE US Shipping
Psorclear – Individual Purchase
Select from the Options Below
Subscribe to Psorclear Monthly and get bottles of Psorclear delivered on a monthly basis at a discounted rate.

0 out of 5

$16.95

/ month

Select Currency for Int'l. Shipping

[do_widget id=woocommerce-currency-selector-widget-2]

$2.00 Discount

0 out of 5

$16.95
 Get a Free Copy of the Book "my life with PSORIASIS" With ANY Purchase of PSORCLEAR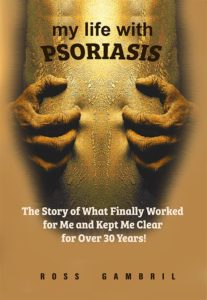 The Book that was the Inspiration for the Creation of Psorclear!
A MUST READ for anyone with Psoriasis or Eczema.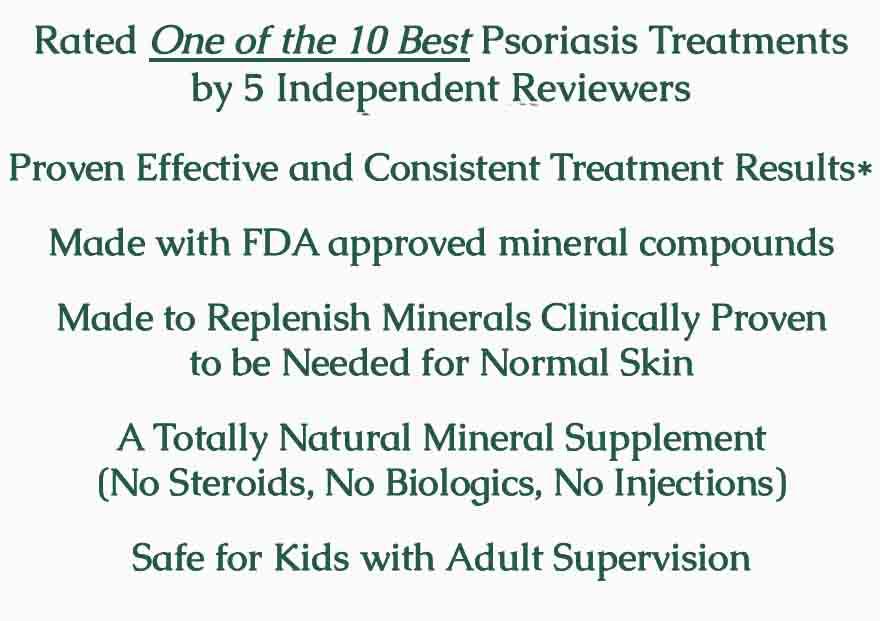 Psorclear is formulated to replenish minerals that are required for normal skin. It has been formulated to minimize the possible minor side effects of digestive system upset and diarrhea.
Psorclear is non-allergenic and does NOT contain: yeast, wheat, gluten, soy protein, milk or dairy products, corn, sodium, sugar, starch, artificial coloring, preservatives, flavoring, lactose, nuts, or nut by-products, or caffeine.
Review for Psorclear
Posted by on
June 12, 2023
I wanted to say THANK YOU for making this product available! My daughter's life has been much improved thanks to this supplement. She has suffered for years with this debilitating affliction, and to see her have some much needed relief from it is beyond WONDERFUL! Though in the very beginning she was skeptical, especially at the 2 week mark. She felt as though it was making her issue worse, and the itching was really bad. But I told her I had seen others say they too experienced that, and I encouraged her to work through it and continue taking it. The results have been amazing! She is wearing her hair back and up off her neck for the first time in many years! So THANK YOU again, from BOTH of us!!
Review for Psorclear
Posted by on
August 2, 2021
I've been suffering from psoriasis for past five years. For all these years it was mostly on the palms of my hand and was manageable. Last two years though a small red patch would develop on the inside of my elbow around April / May and would disappear after three or four months. This year there was nasty flare up starting from inside of my elbow that spread in both directions and covered 70% of my arm. It got to a point where I could not sleep at night. My hand had a burning sensation, caused violent itching which caused bleeding. Nothing seemed to be working. Recently however it got real real ugly to the extent I thought I will have to be admitted to hospital. I started taking Psorclear and it has worked like magic, within 10 days I am 80% clear and much better. I am taking 3 pills as I weight about 155 pounds. Once I started taking this mineral pill I could start noticing a difference immediately……… I have posted pictures of the difference within 10 days of my taking the pill. My itching and burning sensation reduced my inflammation also has gone down I'm very confident that in a month I will be back to normal. I will be leaving a fantastic review for you folks on Amazon and with pictures.
By the way, I think I might take this pill for rest of my life,
Review for Psorclear
Posted by on
February 21, 2021
This is definitely a life-changer product. It is inexpensive and it works! I am so happy with this product I had such a bad outbreak of psoriasis that I've never had in my entire life all on the bottom of my feet and body and legs never had it this bad before I am 59 years old read about this and decided to try it had nothing to lose. Well I am in my third month and second bottle I take 3 to 4 pills a day with food and I can now walk on my feet my legs have cleared up. I'm not embarrassed to wear shorts anymore. I feel great the itching has stopped and it keeps getting clearer and clearer what is left. This has been a lifesaver and I can't think you guys enough for giving me my life back. I have been taking them now for three months and I am able to run, walk and where shorts again. I believe that Psorclear truly is here to help and not to make a profit. Every statement that they have said has been true I have found out. I think this is something I will be taking the rest of my life on a daily basis. Thank you, thank you, thank you once again. I tell everybody about your product and they have seen the results. I can't thank you enough for changing the ball game on psoriasis.
A fan for life!!!
Review for Psorclear
B.S., Christies Beach, South Australia
Posted by on
February 13, 2021
I have had Psoriasis for 30 odd years, and tried many different products, including steroids, phototherapy and medication, and recently got fed up with it all and decided to try "natural therapies". I've been using Psorclear for 2-3 months now, and found a big improvement in my skin. From looking like I was covered in measles. Most of the "spots" have cleared, and my skin is definitely getting back to normal. Much less itching, and I can wear short sleeves again 🤗🤗🤗. I would definitely recommend this product. I'm one very happy user!!😍😍😍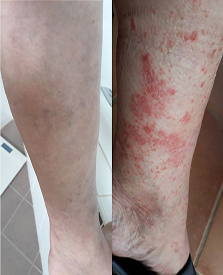 Review for Psorclear
Posted by on
January 10, 2021
Absolutely Works! It took 3 months but that is fine. No more itching. My wife was miserable, but not for many months now. Thanks to this alone. No more greasy creams. My wife has taken this for 18 months. She has had her blood tests for diabetes, kidney function, cholesterol, etc., with zero negative tests. She takes 3 capsules, one for every 50 pounds daily. Takes a few months but absolutely works. OVERALL skin condition is much better. Worth every dime.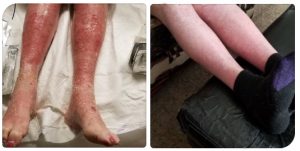 Review for Psorclear
Posted by on
June 10, 2020
I have had eczema and psoriasis since I was a kid, I have had multiple steroid ointment and creams prescribed to me over the year which worked until my body grew a tolerance to them. I gave this a try 3 months ago and my skin is completely back to normal for the first time in years. I have experimented with the finding and find that taking one with each meal of the day works best for me. The photos are 6 weeks apart.
Anyone who has struggled with psoriasis or eczema I absolutely recommend this product. It is easy and convenient since it is a small capsule and it works!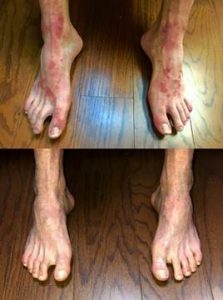 Review for Psorclear
S.O. Sittsville, Ontario, Ca
Posted by on
September 17, 2019
I wanted to drop a line to say thank-you so much for providing this. Last year my daughter Rachel was diagnosed with Psoriasis. We had been trying some of the expensive creams she was prescribed, but after a few months I saw no difference. At the same time I started researching and I found your product. I bought it and we started treatment immediately. I am so happy to say, that other than a little redness on her knees and elbows (you have to look hard to see it) she has no trace of her psoriasis. I am so glad that you have spared her the stares and isolation that you must have felt. Thank-you so much.
Review for Psorclear
I want to encourage all skeptics to purchase your product. I too thought this might be yet another scam that wouldn't work but I couldn't have been further from the truth! I have been on your program for about two months and I cannot believe the gains that I have made. It has pretty much all cleared up and now I now have to longer put up with the stares or questions. I no longer have to feel like an outcast and I can finally carry on a conversation without my hands in my pockets for fear that people might see what I have. Thanks for putting this out there…you have truly changed my life.
Review for Psorclear
Posted by on
April 22, 2019
I would just like to say thank you. I could write a book on suffering from the psoriasis, but this would also take too long. I saw my dermatologist this PM, and he is amazed, so I have passed on your details.
I also had arthritis with psoriasis and this also has improved dramatically.
Once again thanks again.
Review for Psorclear
Posted by on
March 3, 2019
Thank you so much. My skin has never looked better and it only took a few weeks! Now, I can finally wear short sleeves without being self-conscience of the red blotches from the eczema that used to be on my arms. I'm so excited that there is finally something that works. Thank you again.
Review for Psorclear
Posted by on
February 2, 2019
I ordered your product and it was well worth it! I have started the regimen for over two weeks now and I have noticed a difference…no flair ups since, the itching has stopped and some of the patches are starting to disappear. I have read what has been said about zinc and zinc overdose and I myself would rather have diarrhea (from over amounts of zinc) then liver/kidney failure due to the other harsh psoralen drugs out there.
Review for Psorclear
Posted by on
September 24, 2018
I'm a nail technician & skin aesthetician in the Miami area & I have a very busy little one-woman operation. I have spent literally thousands of dollars in the last 4 years trying to clear up a hand eczema problem that has almost made me give up my business. I'm currently involved in an experimental trial for yet another new treatment. It worked at first, but the eczema came back with a vengeance about a week ago. I was in so much misery, I'd cry in the evenings from the pain & intense itching, not to mention the swelling & blisters. It was grotesque to look at, much less, try to work on clients looking like that!
I found out about your treatment & ordered it a few weeks ago & just received it in the mail 3 days ago.
To get to the point, I have been taking 200 mg/day of zinc, 100 mg/morning & night for 3 days now & I'm totally amazed at the results I'm getting. I don't know if the improvement is going to continue, but it's the first time in years I haven't had some sort of intense itching/ blistering episode in a 24 hr. period.
Thank you so much for making this simple treatment available for all the psoriasis & eczema sufferers out there. I have 2 clients with severe psoriasis who I am going to refer to you & I'm sure they'll be forever grateful to you, just as I am.
Review for Psorclear
Posted by on
September 4, 2018
I wanted to take a minute to write, and say "THANK YOU SO MUCH" for sharing this wonderful treatment. I have been suffering with psoriasis for the last 10 years now and it has truly changed my life. When I first was diagnosed with it, I completely fell apart, because I knew that this was something that could never be cured, only controlled. As the next few years came and went I found myself completely covered with scales everywhere, on my scalp, in my ears, on my entire torso and even on the bottoms of my feet. I had seen several specialist to help treat the psoriasis only to be disappointed after spending hundreds of dollars on treatments that didn't work. However, I faithfully did as the doctors told me to do, and still, nothing seemed to work. I did find out that ultraviolet lights were the worst things for me to try (even though they seems to help others), because I broke out worse than I already was. I tried every new medication that was on the market, only to find out that it would only work for a while and then I would have to switch to something.
I'm happy to say, that I've been using this wonderful treatment of yours for about 3 weeks now and have seen tremendous improvements. The scales are almost completely gone!!! I can't tell you how excited I am…. if this is what happens in 3 weeks, I am dying to see what happens in the next 3. You truly are a special person for wanting others to know about this. You may have just stumbled upon something that might just give all of us psoriasis sufferers something to finally look forward to, a normal life.